Congratulations to the Arizona Diamondbacks who are the 2001 World Series Champions!
I love my Diamondbacks.
For further info go to the following links.
Arizona Republic's coverage of the world series
Arizona Diamondbacks' Web Site
Congrats to Junior Spivey, Damian Miller, Luis Gonzalez, Randy Johnson, Curt Schilling, and Byung-Hyug Kim on going to the 2002 World Series.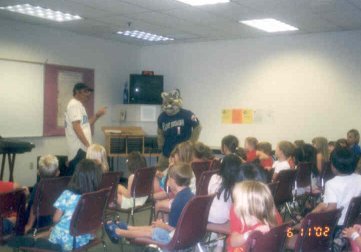 Bobby Freeman (D-backs' organist) and D. Baxter (D-backs' mascot)
Return to Cathy Coffman's Home Page.