Cathy's Goldfish Bowl
(Just Swim On In)
---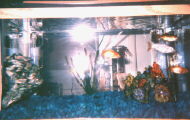 This is a picture of my four fish Larry, Daryl, Daryl, and Daryl. Yes, there are four fish in there but it is not a very clear picture of them. When I got my fish, 3 of them looked the same so I gave them the same name. Today one of the 3 has changed colors. I have had them for over a year now. They are great pets!
Go to reasons why I have Goldfish as pets
Go to starting your own Goldfish bowl
Go to pet stores in the Phoenix area
Go to the reference section of this page
Go to bottom of page



There are three reasons why I have Goldfish as pets.


They are fun to have around.
They are soothing to watch and are known to lower my blood pressure.
I don't have to pay a $250 pet deposit to the owners of my apartment complex.
Reference Section
Check out my reference page for websites and other places to go to find out about goldfish setup and care.
Check out a list of stories and crafts that you can do with kids. Great for teachers and librarians to use for storytime.
I made this page for my Internet Class CIS133 at Glendale Community College.
E-mail me at webmaster@coffmanhmpg.zzn.com if you like my web page and/or goldfish.